Reducing erosion, promoting soil health benefits
Posted: Thursday, June 30, 2016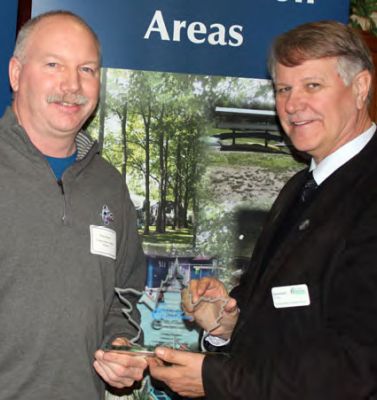 By Doug Rogers, Farmer, Lambton Shores
Healthy Lake Huron is about engaging the community to work together toward the goals of Clean Water, Clean Beaches. The St. Clair Region Conservation Authority (SCRCA) has been working with local citizens in Lambton Shores (a Lake Huron priority watershed) to support the community in taking action to protect our lake.
It all started 25 years ago when farming practices focused on saving labour and equipment costs. Farming practices have since evolved to stop erosion by wind and water, promote soil health, and prevent soil degradation.
In September 2015, SCRCA hosted a conservation farming bus tour in Lambton Shores. Farmers travelled to local farms that were practising techniques that helped reduce erosion and phosphorus loss. One of the farms was mine. It is located not far from the shores of Lake Huron. We are attempting to do all we can to ensure our farm is not contributing sediment and nutrients to the lake.
Over the years, our farming techniques have ranged from the tried and true to innovative approaches to agriculture, always trying to balance the needs of the farm with the needs of the watershed. After doing a lot of research and attending many agriculture conferences, we now strive to maintain a 'living crop' on our fields year-round. To ensure the ground is not left bare, we plant a cover crop that is made up of 10 different plant species after winter wheat is harvested. Some species die off when the frost and snow arrives, but their roots remain and armour the top of the ground, keeping soil and nutrients on the field instead of eroding and ending up in Lake Huron.
The residue left behind is a food source for the biological network under our feet. Soil micro-organisms help improve soil structure, and create better soil aggregates. This provides better water infiltration into the soil profile so it will not run off the fields.
This year, we are also inter-seeding cover crops into corn and soybeans when they are growing so that, after harvest, the cover crop is already established, reducing erosion in the autumn and the following spring.
Cover crops are not only beneficial because they secure soil by their roots but they also can contribute nitrogen for the next year's crops and maintain soil moisture to help reduce wind erosion.
Do you remember driving around the countryside this past winter when we had some snow? Did you notice the fields that were tilled had dirty snow along the roadsides and ditches? This is caused by wind erosion of our soil and is visible proof of the problem.
I am committed to sharing my experience to encourage other farmers to contribute to a Healthy Lake Huron. I have noted some agricultural fields that are without crops during spring and autumn – our seasons of heaviest precipitation. This is when we have the highest losses of soil erosion by wind and water. If we stay this course, there will not be enough topsoil to farm within the years to come.
Studies have shown we lose, on average, about five to seven tons of topsoil every year, not including the soil lost from large rain events. We need to make some changes now and not later.
Over the last two years, working with St. Clair Region Conservation Authority, we have been taking water samples from field tile and surface runoff after large rain events from conventional, no-till, and cover crops and, this year, we plan to add samples from green cover crop fields to compare the loss of phosphorus from these various farming practices.
The SCRCA is working to spread the word and provide opportunities for farmers to learn more about soil conservation. They are planning another bus tour in August. I would encourage anyone interested in protecting Lake Huron to join us on the tour.
You can get more information by calling Jessica Van Zwol at 519-245-3750
, extension 241.
Photo: Doug Rogers received a Conservation Award from St. Clair Region Conservation Authority Chair Steve Arnold at the SCRCA Annual Meeting in February 2016 for his efforts that support a Healthy Lake Huron.