Volunteers keep thousands of items out of lake
Posted: Friday, April 27, 2018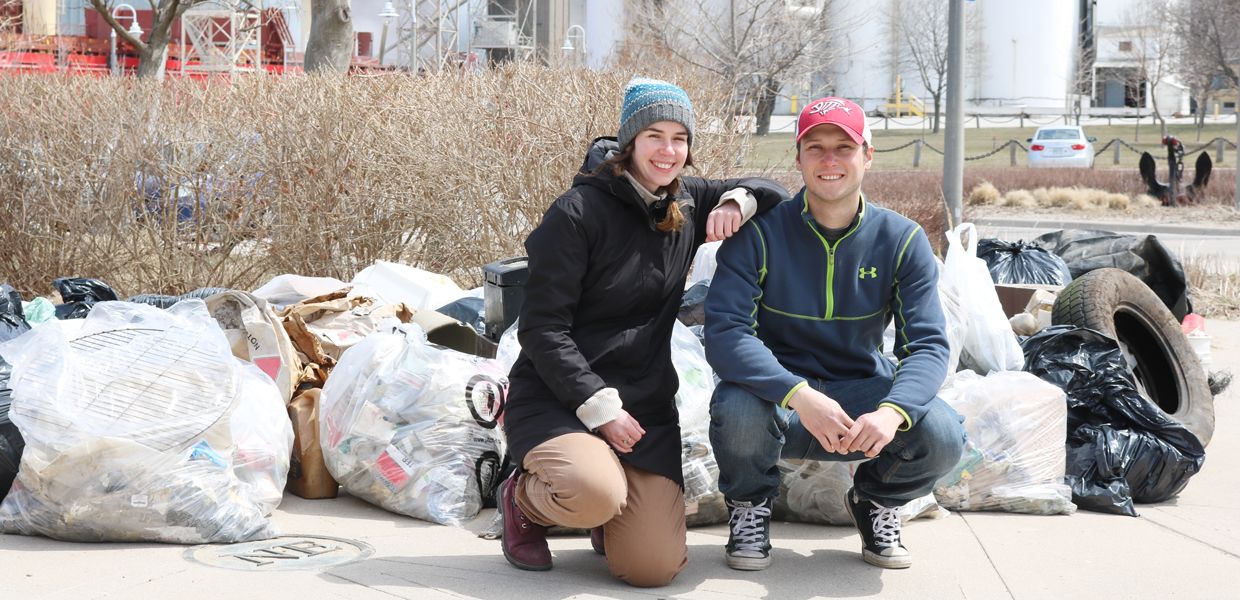 The Lake Huron Centre for Coastal Conservation (LHCCC) has announced that this year's annual Great Goderich Shoreline Cleanup has helped to keep thousands of plastic items and other garbage out of Lake Huron - just in time for Earth Day.
More than 175 volunteers collected 1,072 pounds of trash, on Saturday, April 21, 2018, from the Main Beach in Goderich and the banks of the Maitland River.
The collected garbage included 4,725 cigarette butts, 1,617 pieces of microplastic, 358 beverage cans, 311 plastic bottles, 205 coffee cups, 201 plastic bags, 124 glass bottles, and 101 plastic cups were recorded, in addition to some unusual items including two dehumidifiers and a deep fryer.
"The annual Great Goderich Shoreline Cleanup is a great way for the community to come together and make their home a more beautiful place to live," said Erinn Lawrie, the Executive Director of the Coastal Centre.
A free barbecue lunch and hot beverages were generously provided by Zehrs Goderich and Compass Corporation. This event was made possible with the help of many partners including: the Maitland Valley Conservation Authority, Lower Maitland Stewardship Group, the Rotaract Club, Engage Goderich, the Yoga Den, and the Maitland Trail Association.
Beach litter and plastic pollution have been identified as a significant risk to coastal ecosystems and threaten water quality and the health of wildlife in Lake Huron. Larger pieces of plastic break down due to sun exposure and wave action into smaller and smaller pieces called microplastics. These tiny pieces of plastic are often accidentally ingested by fish and birds, causing many detrimental health effects and contributing to the decline of many Lake Huron species. As a way to support coastal ecosystems and the health of Lake Huron, LHCCC participates in ten shoreline cleanups along the coast each year, diverting trash from the shoreline and lake.
The Lake Huron Centre for Coastal Conservation is located in Goderich, Ontario and is a non-profit charitable organization that was founded in 1998. It is celebrating 20 years of working with the community to protect Lake Huron's water, beaches, and coastal ecosystem. With the goals of protecting and restoring Lake Huron's coastal environment, LHCCC provides leadership and expertise, in collaboration with partners, to achieve a healthy coastal ecosystem.
The Lake Huron Centre for Coastal Conservation is a partner in the Healthy Lake Huron: Clean Water, Clean Beaches Partnership, helping to protect water and beaches along Lake Huron's southeast shore, in an area stretching from Sarnia to Tobermory.